It's fall, and we're ready to dance!
We had an amazing first month back thanks to everyone who came out to dance in September. And we're starting October off right with a dance tomorrow, October 1st!

This month, we're excited to welcome Olivia Schrantz as a new teacher for 802 Westie Collective! She'll be teaching a Beginner 2.0 series this month for those who have learned the basics, and want to dig in a bit more. We'll also continue having "Foundations and Evolutions" class with Bridget Fischer to challenge our more experienced dancers. As usual, Tessa Antolini will join 802 Westie Collective at the end of the month for her fabulous monthly workshop. Make sure to go to our Facebook Page for details of all our events, and respond as "going" so we know to expect you!

Also, don't forget that there are a few great events coming up, including Montreal Westie Fest and Count Down Swing! We would love the whole 802 community to show up in force, so let us know if you're interested in joining!

There are so many ways you can get involved with 802 Westie Collective beyond dancing and classes too! We are a non-profit organization and are seeking volunteers of all kinds this fall. If you have time or knowledge to share, please see our "Volunteer" section below.

Looking forward to dancing with you in October!
---
---
October Schedule
Saturday 10/1
Start off your month right with the Queen City Westie Social. We're excited for an all levels workshop with Bridget and 3 HOURS of social dancing!

Wednesdays 10/5, 10/12 and 10/19
7:00 Lessons – Basics 2.0 with Olivia for newer dancers and Intermediate Westie Foundations with Bridget for more experienced dancers to strengthen and improve their skills.
8:00 Social dancing

Wednesday 9/26
7:00 Lessons – Basics 2.0 for newer dancers and a Workshop with Tessa Antolini for dancers confident with the basics and ready to dig into more nuanced technique.
8:00 Social dancing
---
Dancer Spotlight: Adam Franco
In 2002 a college friend convinced Adam Franco to take the beginner Lindy Hop class he was teaching and the course of Adam's life was forever changed. After a couple months stumbling about as a new dancer, Adam was hooked and soon found himself dancing Lindy Hop and Blues several nights a week in Middlebury, Burlington, and at Cat's Corner in Montreal – as well as camps and events around the northeast and beyond.
Adam caught the West Coast Swing bug in 2012, dancing regularly at Burlington Westie and striving to get the Lindy Hop bounce out of his Westie steps. Since those early years Adam has traveled widely to learn and dance, bringing his love of social dance as a community member and instructor at Burlington Westie and now the 802 Westie Collective. From his core of West Coast Swing, Lindy Hop, Blues, and fusion dancing, Adam loves exploring other dance forms with a beginner's mind, dabbling in Salsa, Tango, Contra, Kizomba, waltz, and other forms that cross his path. A lover of movement and connection in all their guises, Adam has studied the Japanese martial art of Aikido since 2005, currently holding the Nidan rank and serving as an Assistant Instructor at Blue Heron Aikido.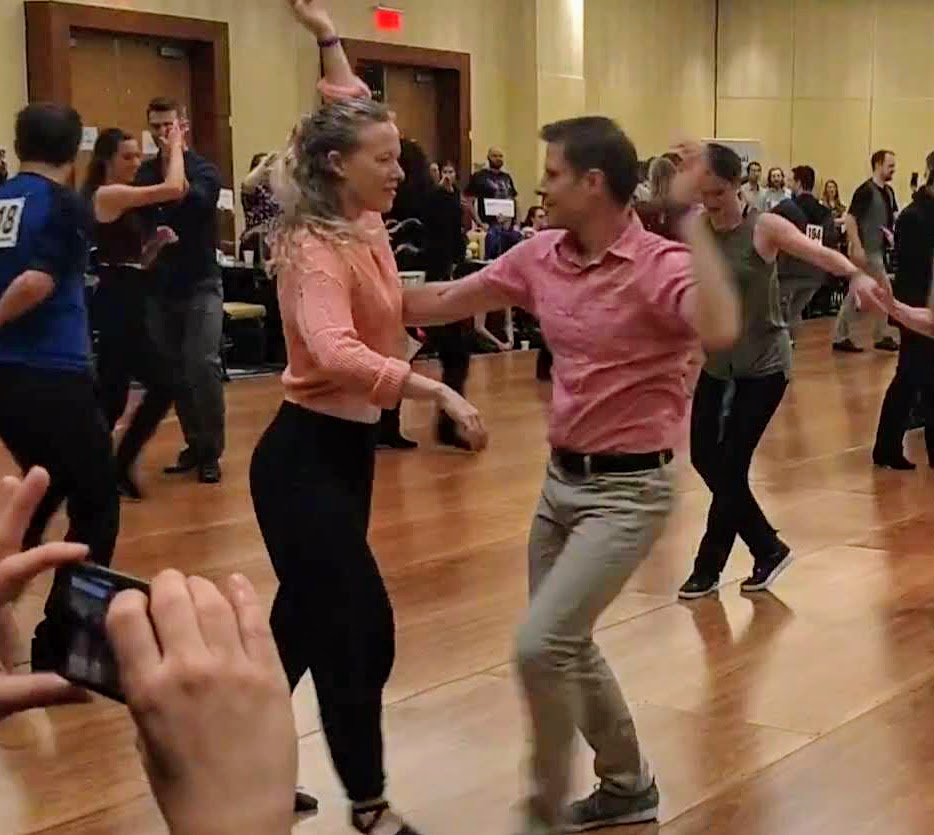 ---
802 Westie Collective Volunteers Needed!
802 Westie Collective is community powered- We love dancing (a lot), and we love community even more. As a volunteer, your time, energy, and love of West Coast Swing help ensure 802 Westie Collective runs smoothly. Let us know if any of the below interest you!
Are you able to arrive early? Help as a studio opener
Are you welcoming and organized? Welcome people and manage the door
Are you organized and good with money? Be part of our weekly bookkeeping
Are you excited about dancing to great music? Join our team of DJs
Do you have another skill that you think could help 802 Westie Collective grow and thrive as an organization? Let us know

Thank you all for your trust, enthusiasm and amazing community support! We look forward to having you involved in helping our westie community grow! Talk to an organizer or email us at 802westiecollective@gmail.com to get involved.
---
Competitions and Events We Are Attending
Countdown Swing 2022-2023
https://countdownswingboston.com
Be on the lookout for more info!

Montreal Westie Fest
https://www.facebook.com/montrealwestiefest
Montreal is only 2 hours north of us, and they have a wealth of amazing dancers and instructors. Join in the fun October 15-16th! Are you a LEADER? Montreal Westie Fest is particularly hoping you'll join in so classes and social dances can be balanced and everyone can have a great weekend!
---